The full scientific programme of ICUP 2017 has been widely publicised, with a highly topical plenary session complemented by a range of parallel sessions. However, not everyone will have spotted a one-day workshop that is within the full conference but interest is quickly gathering pace in the UK and Eire pest control industries. Conference Chair Matthew Davies says, "We've had a number of enquiries from pest control firms and local authorities regarding our 'workshop for pest management professionals' which is a one-day event within the full conference, focusing on the more control-based research. This is good news because pest management professionals are exactly who this part of the conference is aimed at and we are excited to see a strong local representation from the UK and Eire, especially as ICUP 2017 is on home turf. The chance to attend a conference of this calibre, on one's doorstep, is an opportunity not to be passed up. The last time ICUP came to the UK was 1996, so these chances do not come around often."
Designed with the more practical members of the professional pest control community in mind, the one-day workshop dedicated to control-based topics has a strong grounding in good science – the best of both worlds! Chaired by the highly respected and popular David Oldbury (NPAP CIEH), half hour presentations will be given on subjects ranging from rodenticides to bed bugs, mice, pigeons mosquitoes, a unique study on insects in homes and also international pest management credentialing. This workshop will occupy the entire day on Tuesday 11th July 2017. Fully registered delegates may attend (it is included with their registration fee) as well as those wishing to come for this session alone. For those interested in this session alone, a special one-day fee of £197 applies for Pest Management Professionals, now available on the registration website. This workshop is especially attractive to members of the UK and Eire pest management industry and will attract a number of CPD points for those who are members of BASIS PROMPT. Furthermore, a convenient and inexpensive overnight stay in the comfortable and modern Aston University student accommodation can be added to the booking, as well as parking and the conference dinner. Read on for details of the exciting conference dinner!
Poster session
Conference poster sessions are typically underestimated and it would be a mistake to do this with the ICUP 2017 posters. The poster session of the conference promises to be a well-attended event and there are over 40 posters being featured, presented by a variety of international experts that span the full range of research on urban pests. Virtually a whole afternoon is given over to posters because they deserve exactly this kind of exposure. Whilst the posters will be on display for the whole event, during this specific poster session, authors will be in attendance at their display, enabling all those interested to discuss their research work face-to-face. ICUP 2017 has a dedicated Poster Manager who is working very hard to ensure that the poster session is an integral part of the conference.
Conference dinner
Although the main attraction of ICUP 2017 is quite rightly the quality science relating to urban pests, there remains ample time to enjoy oneself away from the lecture theatre. Let it be known that the Organising Committee know how to throw a great party! The conference dinner is to be held at the stunning setting of the Birmingham Botanical Gardens.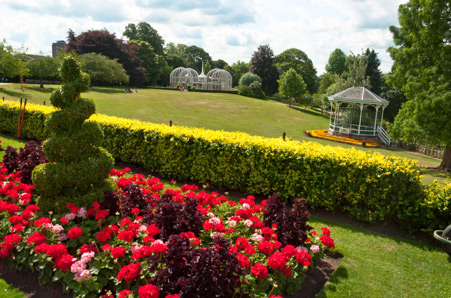 The dinner will have a different twist to the usual and sometimes staid 'sit-down' meal offerings. A wide variety of 'bowl food' will be featured, served in a roving fashion to allow interaction between all delegates rather than just sitting at the same table all night long. Of course, there are plenty of comfortable seating options available but guests will be free to circulate and sample the excellent variety of British and international foods, all sourced from local suppliers.
No conference dinner is complete without exciting entertainment that has a local flavour. With Birmingham being a historical and current 'hotspot' for British rock music, the Organising Committee has booked 'The Subterraneans', a local rock band with an outstanding live set that gets all nationalities dancing, as they play instantly recognisable hits from the 60's to the current day. Responsible for their highly-professional live sound is the Grammy-award winning producer Roger Lomas. 'The Subs' as they are known by their fans, have played the famous Glastonbury Festival and LG Arena before, have been the backing band for many influential artists, and are in residence at the superb 'Jam House' in Birmingham.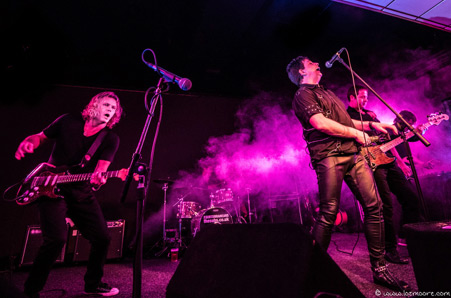 The Organising Committee are looking forward to celebrating ICUP 2017 and hope that you can join us at the Conference Dinner.
Full registration
If you are interested in registering for the full conference, remember to make your booking as soon as possible to secure your place at what is proving to be a very popular event.
Registration details are here http://www.icup2017.org.uk/registration/
Programme details are here http://www.icup2017.org.uk/program/